Why use stairways for dragging laundries and groceries from floor to floor?? Why wait for items to reach the desired destination from multiple stories accounting for stairway accidents?
For businesses/residential purposes our dumb waiters save time hauling packages & Items between multiple stories.
For multi-story restaurants our Restaurant/Kitchen lifts save time transporting food from kitchen to dining area.
Our unique electric dumb waiter design reduces approximately 80% of labour and adds value to your residence. It increases productivity and decreases the strain on your workforce. We provide a complete line of standard and custom residential and industrial dumb waiters for home or industry to suit your needs.
Kitchen Lift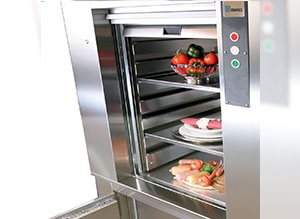 Specifically designed for kitchen application. We provide a stainless steel cabin with compartments to keep the dish trays and serve the purpose of transport of food from kitchen to the serving area and vice versa.
Service Lift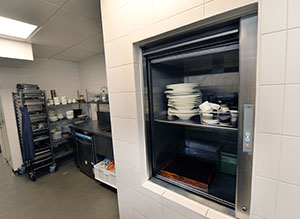 A dumbwaiter having variable application. These lifts can be customized based on the application. For example: For movement of Library books, Laundry etc from floor to floor. Quick and easy installation with smooth operation serves the purpose of the lift.